Mango, Basil and Shaved Fennel Salad with Chile Lemon Dressing

This salad is full of textures, flavor and color for something cool and light but satisfying on warmer days.
With mangos coming into season my mind has gone wild with the possibilities. I missed my own berry season back in the PNW this year and am determined to take advantage of the tropical version of the overabundant fruit that I find myself amongst. I also know that warmer weather is coming so cooking that does not involve heat is a huge win.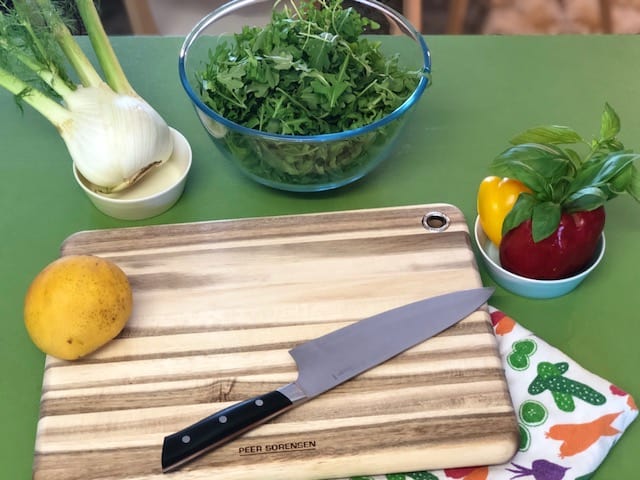 Raw fennel (see large white bulb with green stems and whispy green leaves above on the left) has a very mild sweet flavor to it with a hint of licorice. It pairs great with the more peppery arugula (rocket) salad greens in this recipe and the sweet juiciness of mango. You can enjoy fennel cooked any number of ways,  but to keep things cool in the kitchen this salad uses raw fennel.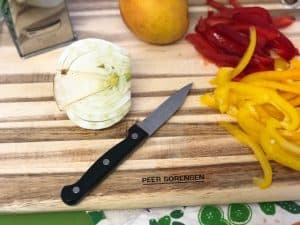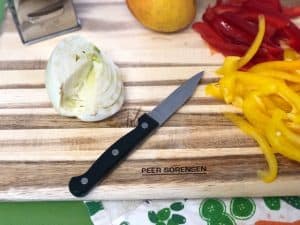 Cooking in Bali at Casa Luna Cooking School reminded me of how simple it is to make a flavorful dish if you focus on the balance. Something spicy, salty, sweet, bitter, sour. Can you pick out which ingredients in this recipe plays those characters?
More mangos on hand? When they are in season you can get a great deal buying a bundle of them. Try fresh mango slices sprinkled with a little bit of chili powder, just a touch of salt and a generous squeeze of lime juice. Ease into the chili powder to find the amount that is just right for you. This should be enjoyable not painful!
More on mango.
How do you know which one to take home with you? How to pick the perfect mango depends on when you plan to use it. It should give a little when you hold it in your hand and gently press your thumb and pointer finger into it. It should also smell faintly sweet when you hold it to your nose. A  mango that checks these boxes is ready to be eaten within the next three days. Making your salad at the end of the week? Pick a mango that has barely any give yet and faint or no smell. Let it sit out out on your counter at room temp. If you can only purchase unripe mangos (hard and no smell) bring them home and place them in brown paper bag, seal the bag and leave it out on your counter. Adding a tomato or an avocado as a buddy to the bag can help speed up the ripening process.
---
Mango, Basil and Shaved Fennel Salad
with Chile Lemon Dressing
Chili and mango is a kicking combination in this recipe-think juicy and warming not "on fire". This salad also packs a punch with high vitamin C and fiber content to respectively support your immune system and gut function.
Makes: 8-10 cups
Servings: 4
Prep Time: 15-20 minutes
Total Time: 15-20 minutes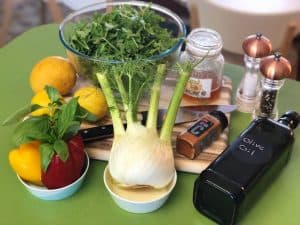 Ingredients
Dressing
1/3 cup fresh lemon juice (about 1 1/2 medium lemons)
1/2 tablespoon local honey (more to taste)
1/3 cup organic extra virgin olive oil
1/4 teaspoon chili powder
pinch of sea salt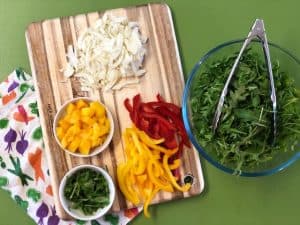 Salad
120 gm arugula/baby rocket, washed and dried
1/2 large fennel bulb, top chopped off, core removed, shaved (or thinly sliced if you don't have a mandoline slicer or other way of shaving it)
1/3 cup fresh basil leaves, thinly sliced (plus a few whole small leaves to garnish top with)
1/2 medium sized red bell pepper/capsicum, de-seeded, thinly sliced
1/2 medium sized yellow bell pepper/capsicum, de-seeded, thinly sliced
1 large ripe mango, de-seeded, skin removed, cut into thumb sized cubes
pinch of fresh cracked black pepper
*2 cans chickpeas roasted in the oven in olive oil with salt and pepper to top salad OR protein of your choice. Cold cooked shrimp or chicken would also pair nicely with this salad.
Directions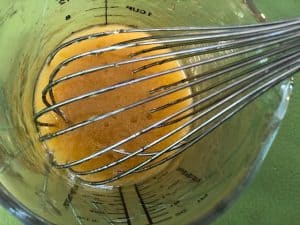 Make dressing by combining all ingredients in a measuring cup and whisking together until well combined. Taste test and adjust flavor to preference, adding more honey or chili powder as desired. Set aside.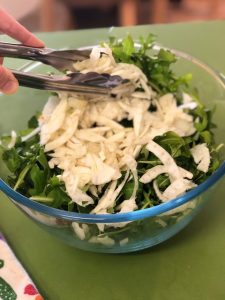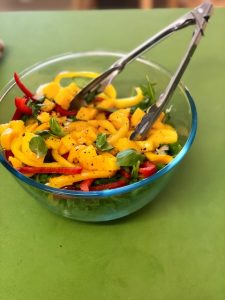 Assemble salad. In a large bowl toss together arugula, fennel and basil until well combined. Evenly sprinkle red and yellow bell pepper slices and mango chunks across the top of the bed of greens. If to be served later store dressing and protein of choice separately in fridge and assemble at time of meal. If serving immediately, fill large individual salad bowls with salad, add protein of choice on top, drizzle with preferred amount of dressing and finish with a sprinkle of fresh cracked pepper. Dig in!