PB Chocolate Chip Energy Balls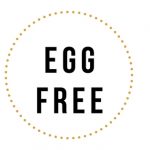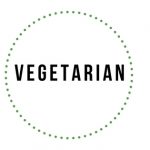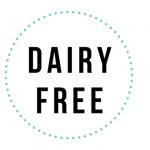 The perfect easily prepped and packed to go buddy for whatever your day has in store. I love these for a quick easy on the tummy energy source for early morning activities.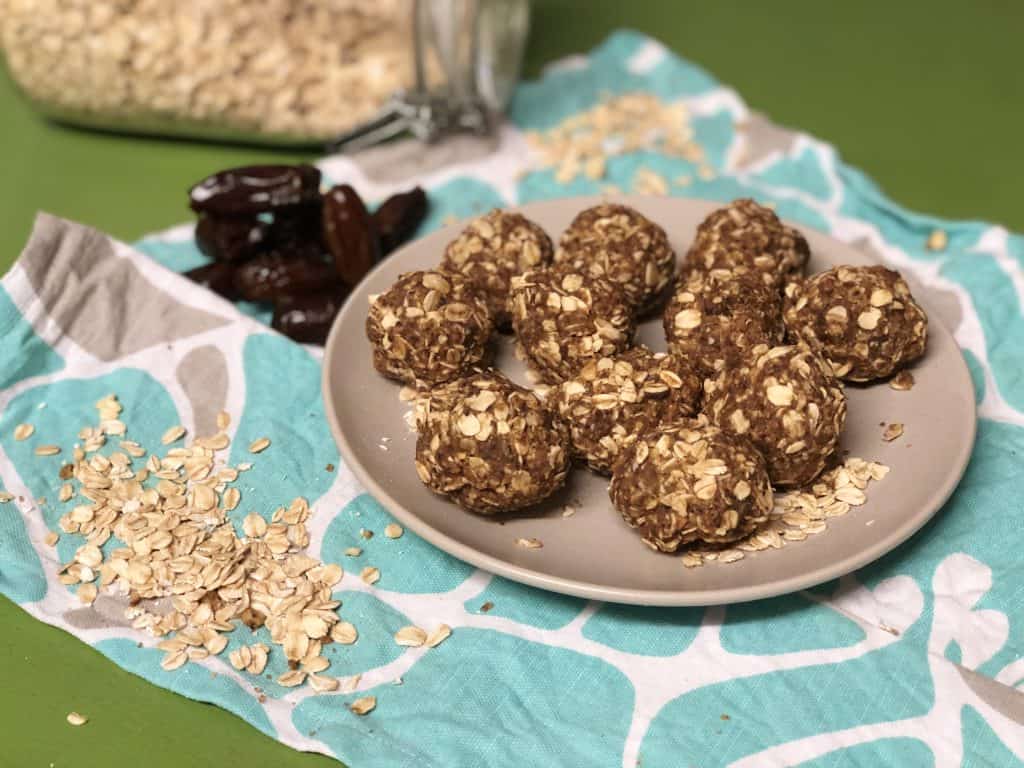 I may have a second hand bike that the fancy bike shop people said is "made about as poorly as they come", but it has a basket, a bell and I feel like a queen riding it along the water front. So it was no surprise that when I set out extra early this morning to try to bike in for my volunteer shift at the hospital that I was in the 5% of bikers on the commuter biking routes not wearing padded bike shorts and clip in shoes. You go speedy bikers-I will be here slowly climbing those hills that seemingly came out of nowhere and daydreaming about riding around with a bottle of wine, baguette and some brie in my basket ……..thankfully it is only a half hour ride each way because I can definitely see the logic behind those padded butt shorts.
Thankfully I had ingredients to whip up some of these pb chocolate chip balls for my second ride in tomorrow. Two of them are just the right amount of fuel to help space out my breakfast and prevent it from also seemingly coming out of nowhere on my work up those hills…………. if you know what I mean.
Have you ever tried making a version of these? I have found it can be tricky to get the right "stickiness" to the mixture to get the balls to stay formed (especially when you bite into them). This mixture worked out great-just be sure to keep refrigerated (they can survive a brief bike ride 😉 ).
PB Chocolate Chip Balls
Simple ingredients rolled up and ready to go. Swap dark chocolate chips for something else that is more to your taste such as small pieces of dried ginger, apricots or something else you fancy. Keep the size of pieces and quantity used similar to the choc chips to ensure you get the right "stickiness".
Total Time: 10 minutes
Makes: 11-12 balls
Ingredients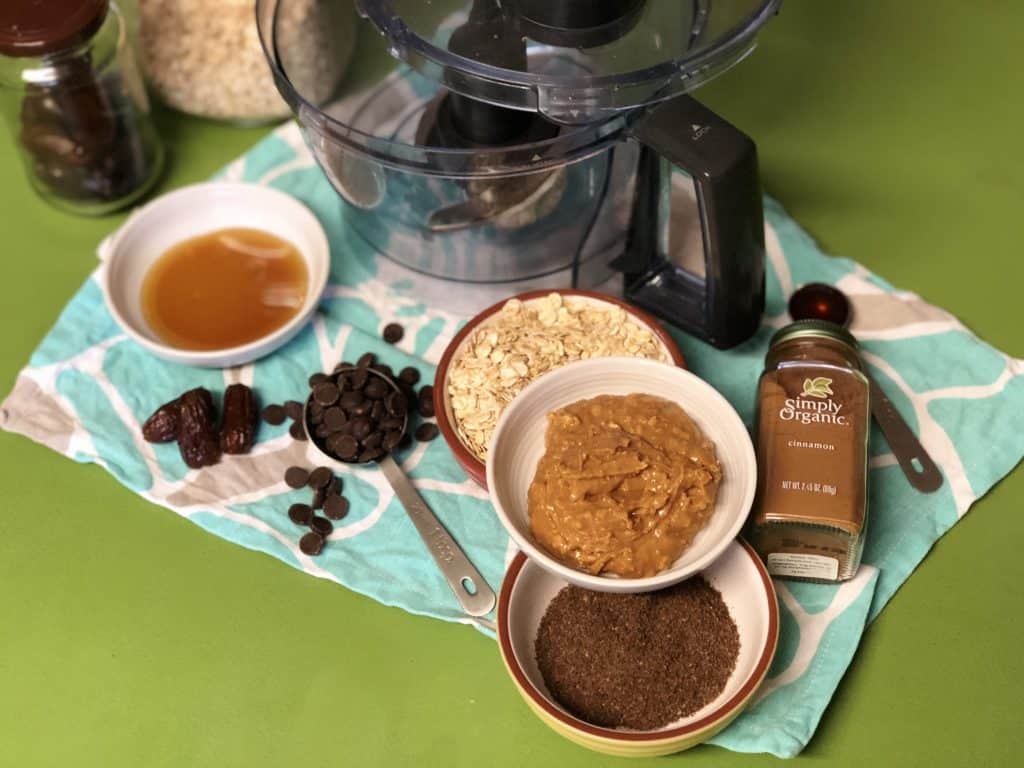 3 dates, pitted
2 tablespoons 100% maple syrup
1/2 cup + 1 tablespoon crunchy peanut butter (or smooth if that is your preference-I use crunchy in general for everything but sauces)
1 cup rolled oats (use certified gluten free oats for a gluten free version)
1/4 cup ground golden flaxseed
2 tablespoons dark chocolate chips (check the label to make sure they are dairy free to keep this recipe dairy free if that is important to you) 
1 teaspoon vanilla extract
1/2 teaspoon cinnamon, ground
Directions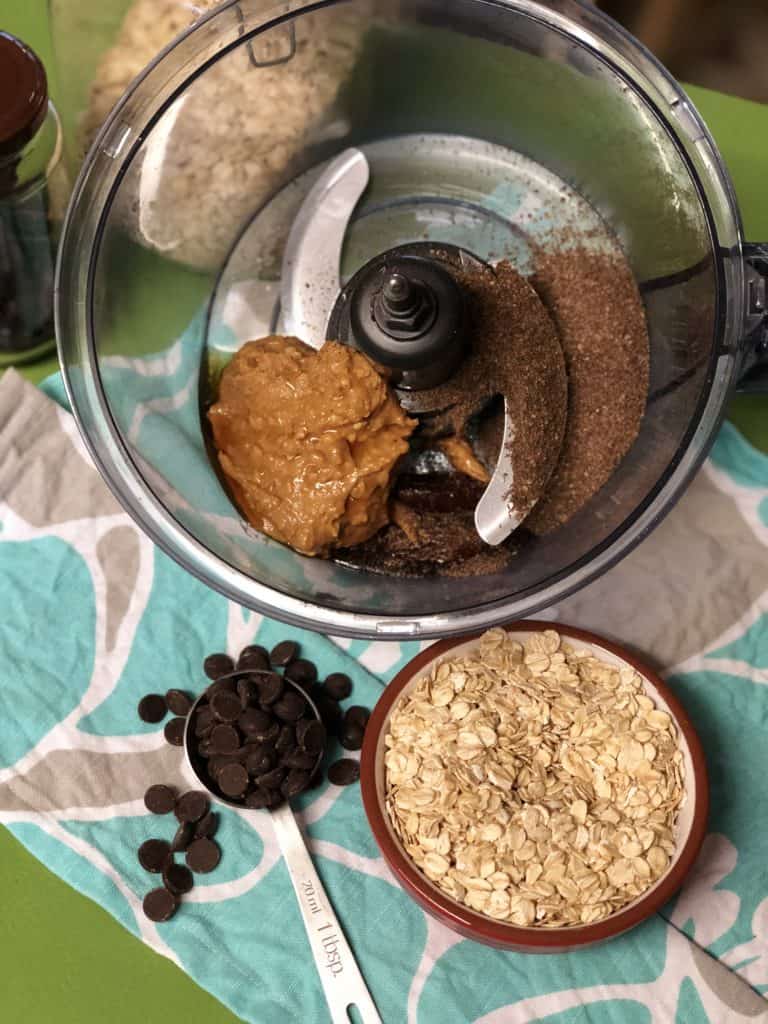 Add dates, maple syrup and peanut butter to a blender or food processor and blend until you get a sticky mixture. You may need to stop and scrape the mixture down the sides as you go to ensure it all blends together. Place this mixture in mixing bowl or dish.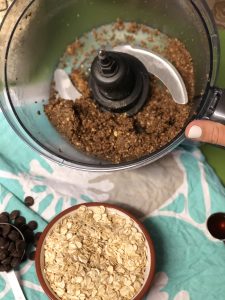 Add oats, flaxseed, chocolate chips, vanilla extract and cinnamon to the dish. I like to mix everything together with my hands
and since you are going to use them to form the balls anyways-you might as well just jump right in. Once you have mixed the newly added ingredients with your original sticky mixture gather some of the mixture in your palm and roll into a ball. You should be able to form around 11-12 balls.
Place balls in an airtight container and put in fridge. Balls will keep for around a month if stored appropriately.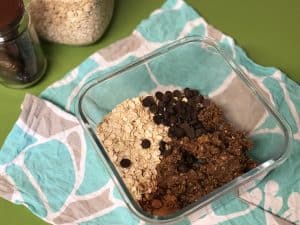 Here is to you and your happy adventures, your snack time or your Netflix night in that these tasty little guys might be joining you for. Hope they make it just that little bit better :).