Spicy Greek Pasta Salad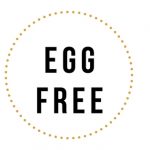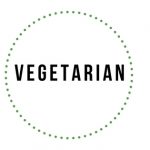 Juicy olives and sun dried tomatoes collide with tangy feta crumbles to make this whole meal pasta dish pop. Pair it with a deliciously baked or grilled white fish or prawns covered  in lemon juice, pepper, olive oil and a pinch of salt-you have got yourself a colorful and balanced menu.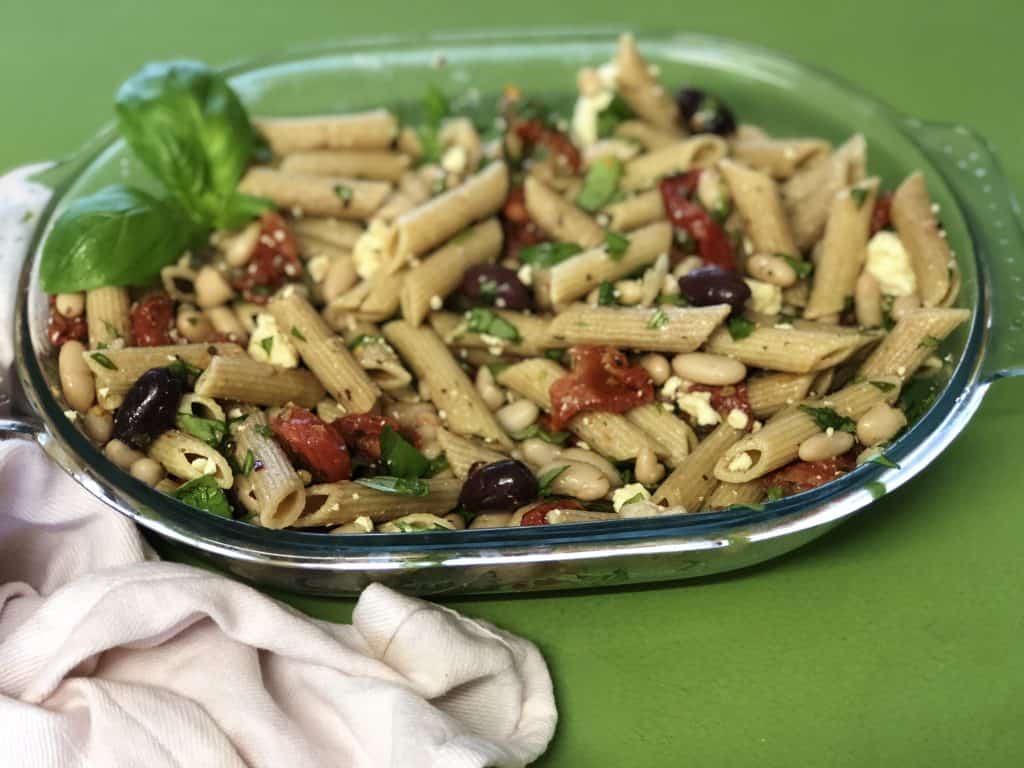 Kitchen Jams: Relax & Unwind Spotify Playlist
In planing for the week I love the ingredients in this dish because they are so versatile and flavorful. You can jazz up so many "go to" items you are probably already eating with these core ingredients.
You can even easily make a shopping list of tasty meals and snacks for your whole week based around the core ingredients used here. Pair this recipe with Mediterranean Herbed Lentil Fritters and use the list below to build your week! Ready-Set-EAT!
1 Week Shopping List Items: Mediterranean Flavors 
(adjust quantities to your needs)
Kalamata olives
Mediterranean olives (or olives of choice)
Fresh basil
Fresh mint
Fresh dill
whole meal/wheat pasta
whole meal/wheat flour
Feta
Cannelloni Beans, BPA free canned
red lentils, raw
Protein options (chicken breast, fish, prawns, tempeh, tofu etc)
Your favorite weekly snack items (dips and crackers and veggies sticks etc)
Large bag or heads of favorite greens for salads during the week
Salad fixings you like (ex: avocado, red bell pepper, apple, walnuts, pumpkin seeds, lemon, onion)
Carrots (double use for recipe and for salad fixing and snacks)
Gold potatoes
Pieces of whole fruit for the week
Tea and/or coffee
Eggs (double use for recipe and for making hard boiled eggs to snack on)
Milk of choice
Any other items you know your household regularly needs
Things you probably already have
Extra virgin olive oil
salt
pepper
salad dressing
red chili pepper flakes
Spicy Greek Pasta Salad
For those less inclined to "Spicy" you can easily make this recipe not spicy by omitting the red chile pepper flakes. Mixed opinions at your dinner table? Make the recipe without them and let the spicy lovers add to their hearts delight.
Prep time: 10 minutes
Cook time: 15 minutes
Total time: About 25 minutes
Makes: 4 1/2 cups
Ingredients: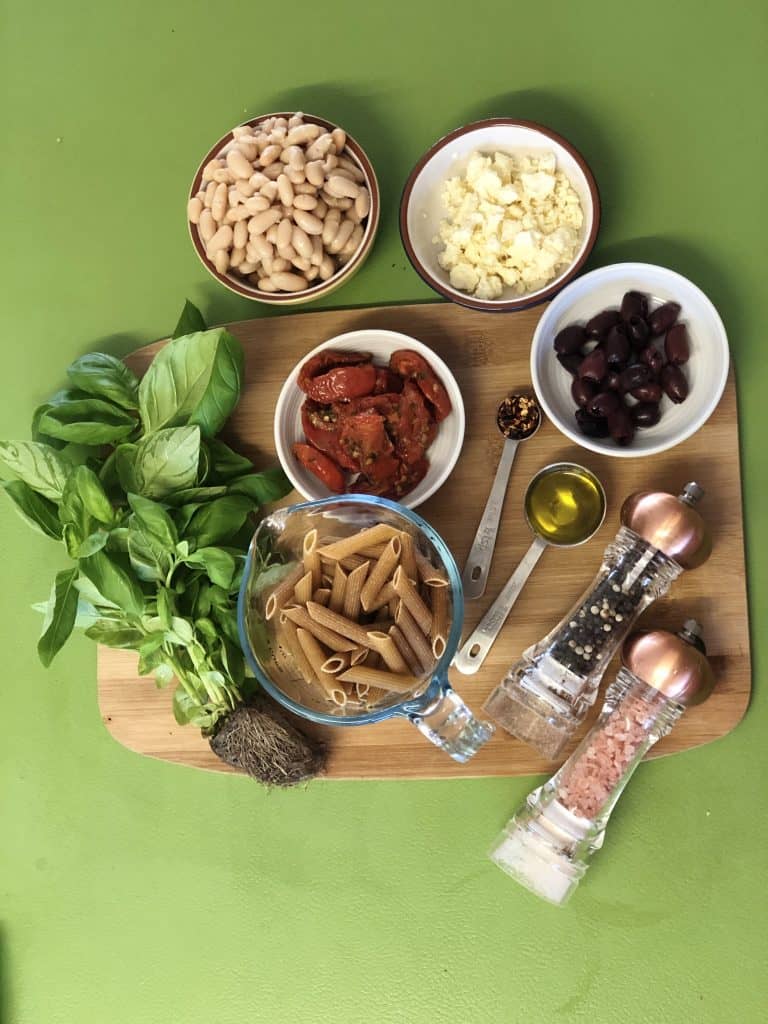 1 16 oz can BPA free low sodium cannelloni beans
(Have another type of bean on hand? No worries, this dish would still be tasty with a kidney bean, chickpea/garbanzo or lima bean)
2 cups whole meal pasta, uncooked (feel free to use whatever shaped noodles you have on hand-not that this may change the total quantity produced however)
3 tablespoons kalamta olives, pitted
1/2 cup herbed sun dried tomatoes, packed in olive oil (don't worry if you can't find herb, plain will work too)
1 large bunch fresh basil
50 grams feta cheese (feel free to use low fat or reduced fat as you prefer)
1/2 teaspoon red chili pepper flakes, dried
Freshly cracked pepper-to taste
Freshly cracked sea salt-to taste
*Option to add in some fresh mint for added depth in flavor. I would recommend starting with 1-2 tablespoons finely chopped mint and adjust to taste preference.
Directions
Cook pasta according to the type you have selected.
While pasta is cooking drain and rinse beans and set aside in a large bowl or dish. You will add the rest of your ingredients including the pasta to this dish so make sure it will be big enough for that.
Add olives to the bowl. Add feta to the bowl by crumbling it into small chunks (if not already crumbled).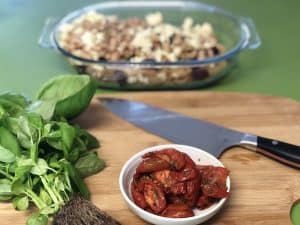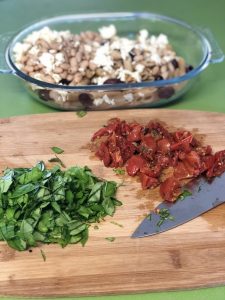 Chop sun dried tomatoes into bite size pieces. Not all of them will need to be cut, but ensure that larger pieces are. Place in the bowl with the beans.
Wash and finely chop basil, add to the bowl with beans and sun dried tomatoes.
Once pasta is done cooking, rinse under cold running tap water and strain to dry.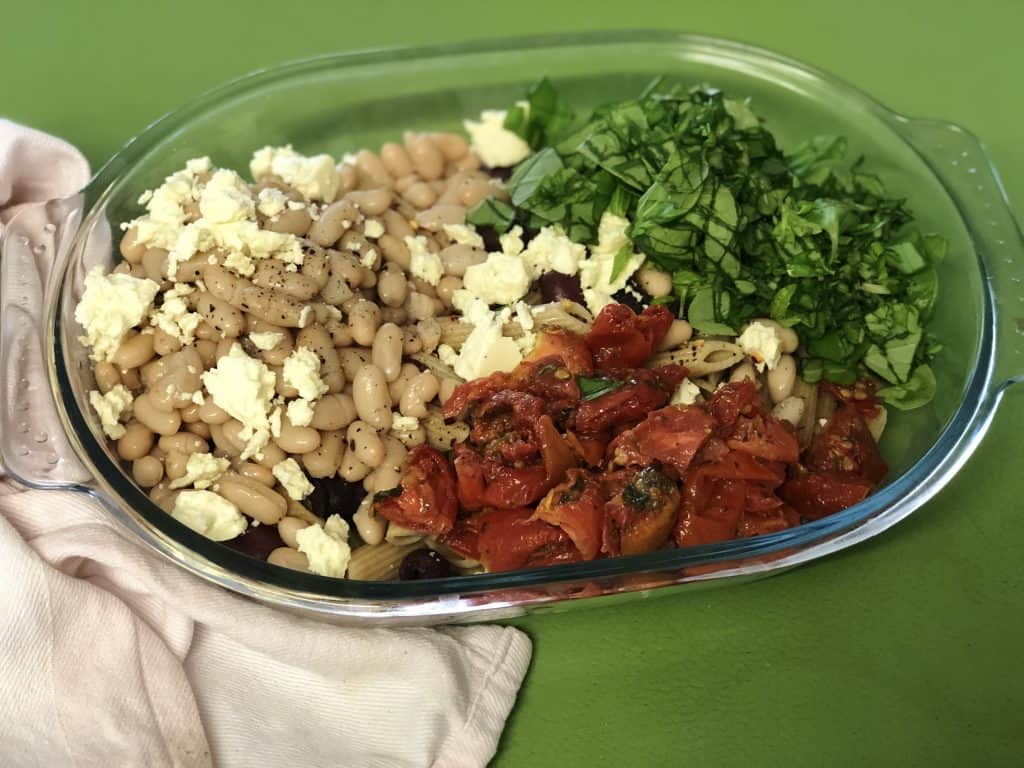 Add pasta noodles, olive oil, and red chili flakes to bowl with other ingredients.  Mix to combine ingredients. Add salt and pepper or perhaps more chili pepper flakes to taste. Enjoy!