Mediterranean Herbed Lentil Fritters
Perfect for breakfast, lunch AND dinner. This recipe is delicious around the clock and packs flavor with juicy bites of olives and sun dried tomatoes. Finish it with a sprinkle of crumbled feta on top or keep it dairy free.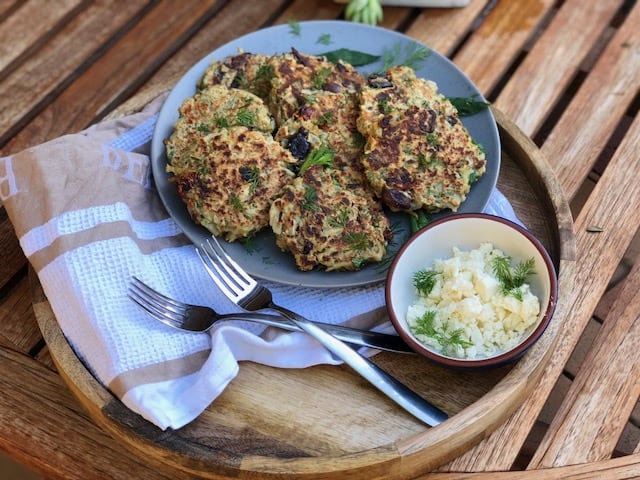 Kitchen Jams: Wedding Jams Spotify Playlist (feeling the vibes for the dance floor for our big day in August!)
Mediterranean herbs and spices you may consider exploring include anise, basil, bay leaf, chiles, cloves, cumin, fennel, garlic, lavender, marjoram, mint, oregano, parsley, pepper, aleppo pepper, rosemary, sage, savory, sumac, tarragon, thyme and za'atar. HEAPS of flavor options here which help transform affordable staples in your cupboards into flavorful and filling meals.
One of my favorite books in the kitchen that is perfect for those looking to explore and try new flavors and combinations is The Flavor Bible. It is an excellent quick reference for both beginning and seasoned visitors to the kitchen for questions like "What can I make with this massive bunch of leftover parsley?", "CAN you put rosemary on that?", " What else could I possibly do to this fish aside from just baking it with salt, pepper, olive oil and lemon juice?". For these and all the other questions you may have asked your cat/dog/house plant with a furrowed brow I say to you:
"-friends, let The Flavor Bible help show you the way."
I adore fresh herbs and actually keep them around in the kitchen like bunches of flowers because they smell fantastic and I think they are each quite beautiful in their own ways.
Herbs also provide us with a variety of phytochemicals (components which are neither macronutrients such as protein and fat or micronutrients like herbs and minerals, but can support our health in other ways).
The farmers market has a bottomless supply of cilantro (coriander) and most other staples readily available. I am no sure if this is just the honeymoon phase of being here in a sub tropical climate winter or if this too good to be true herb supply is here to stay.
I figure I will make the most of it while I can. Check out my Spicy Greek Pasta Salad recipe to help you use up all those big lovely bunches of fresh herbs.
Mediterranean Herbed Lentil Fritters
Makes: 8 fritters
Serving size: 2 fritters
Prep time: 10-15 minutes
Cook time: 20-30 minutes
Total time: 30-45 minutes
Ingredients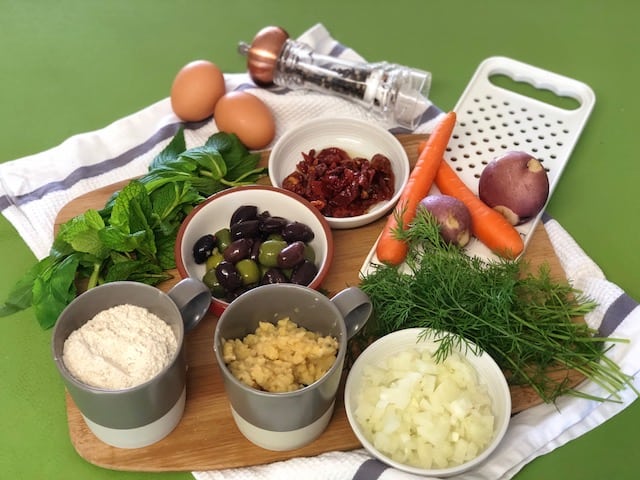 1 cup red lentils, cooked
1/2 red onion, finely chopped (yellow will work fine if you don't have red on hand)
3/4 cup wholemeal/wheat flour
2 tablespoons fresh dill, finely diced
3 tablespoons fresh mint, finely chopped
1/3 tablespoons freshly cracked black pepper
1 medium sized carrot (or two small)
2 small red gold potatoes
1/4 cup sun dried tomatoes, packed in olive oil
1/2 cup pitted mixed olives (I used Kalamata and Mediterranean herbed Castelveltrano olives from a guy at our farmers market)
2 large eggs, lightly beaten
Extra virgin olive oil or coconut oil, for pan
*option to garnish with crumbled feta-highly recommend
Directions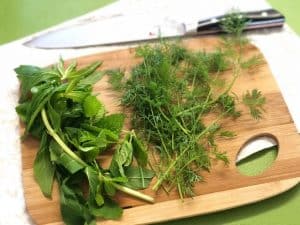 Add cooked lentils, chopped onion, flour, mint, dill and black pepper to a large bowl.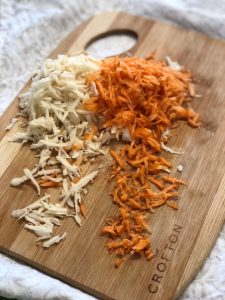 Wash potatoes and carrot/s, peel and then finely grate into shreds and add to the bowl with the lentils and onion. You will want a finer grate (see photo above) to make sure that the carrot and potato are able to cook well enough while in the frying pan later.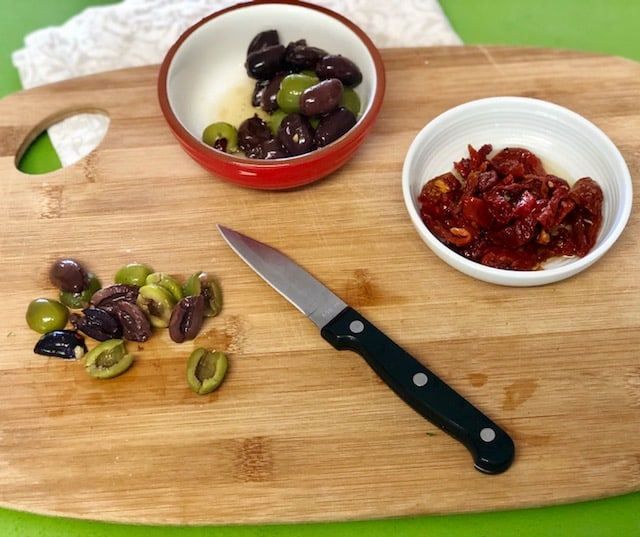 Strain sun dried tomatoes out of oil and cut any larger pieces into smaller bite sized pieces. Pieces are ideally around 1/2 inch long to ensure you get lots of bites of fritter with sun dried tomatoes in them, but don't stress if they aren't all this small. Add these to the bowl with other ingredients.
Strain olives from oil if they are in oil and cut length wise. Add to the bowl with other ingredients.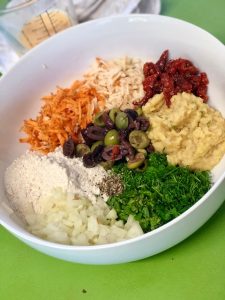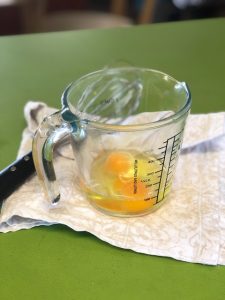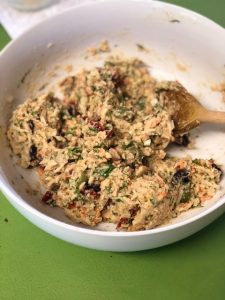 Add lightly beaten eggs to your bowl and mix all ingredients well until they start to come together. Your mixture should resemble a dough, sticking together well to form a patty shape and hold form.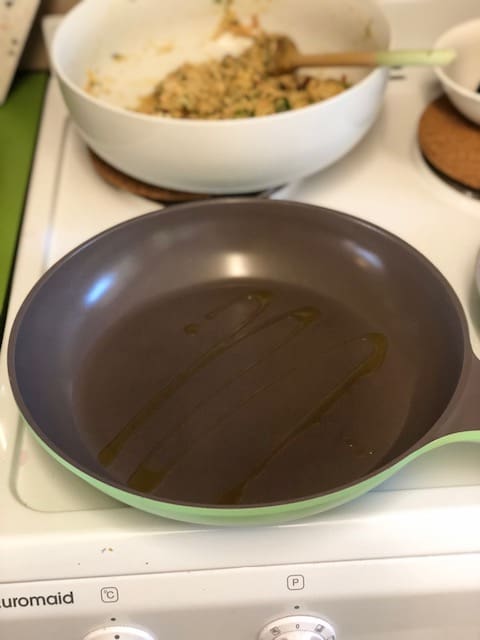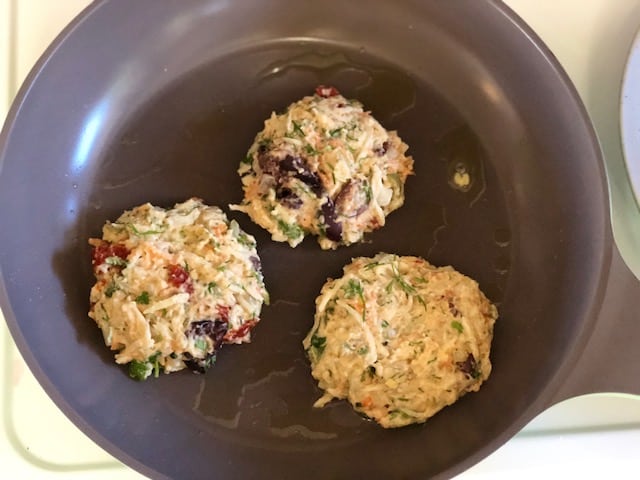 Heat a large frying pan on medium to high heat. Wait a few minutes for the pan to heat up. When it is ready add a splash of olive oil and begin forming roughly two inch patties with you mixture and adding them to the pan. Form patties similar to forming a burger patty by rolling a handful of the mixture into a ball and then squashing and shaping between your hands. Patties should be roughly two inches wide and half an inch thick. Depending on how thick or think you make them you will want to cook them for shorter or longer so the carrot and potato pieces are able to cook.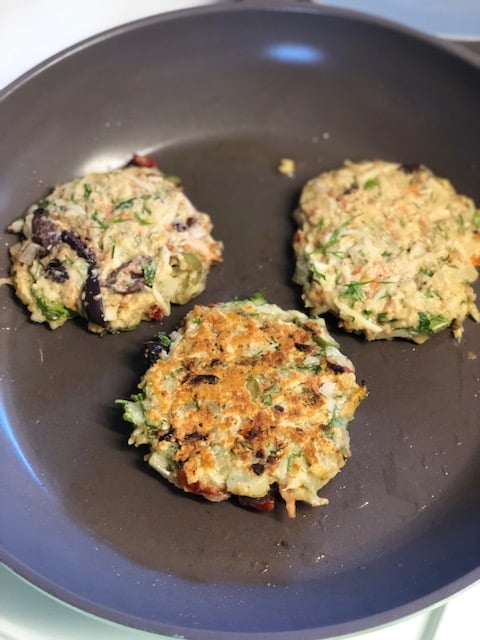 Cook until browned on both sides, roughly 4-5 minutes per side. Check one of your initial patties to see if this time works for the size and thickness of the patties you made.
Set your patties aside. Sprinkle with feta cheese and add extra chopped fresh herbs if you desire (recommend).
Enjoy your fritters solo, on a bed of greens, in a traditional burger, sandwich or even chopped up anded add to a wrap.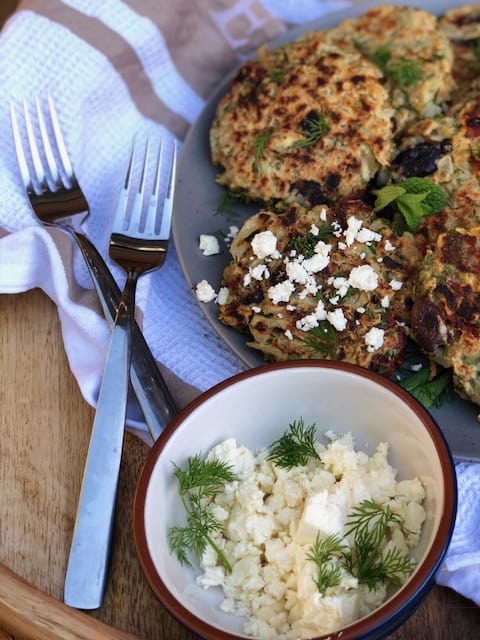 *Disclosure: This post may contain affiliate links that earn me a small commission, at no additional cost to you. I only recommend products I personally use and love, or think my readers will find useful.