Quick Three Bean Salad

Refreshing, affordable and simple. This bean salad is a perfect make ahead side dish for your next BBQ, picnic or workweek lunch prep. Why shouldn't your weekday lunches be just as yummy as your weekend ones?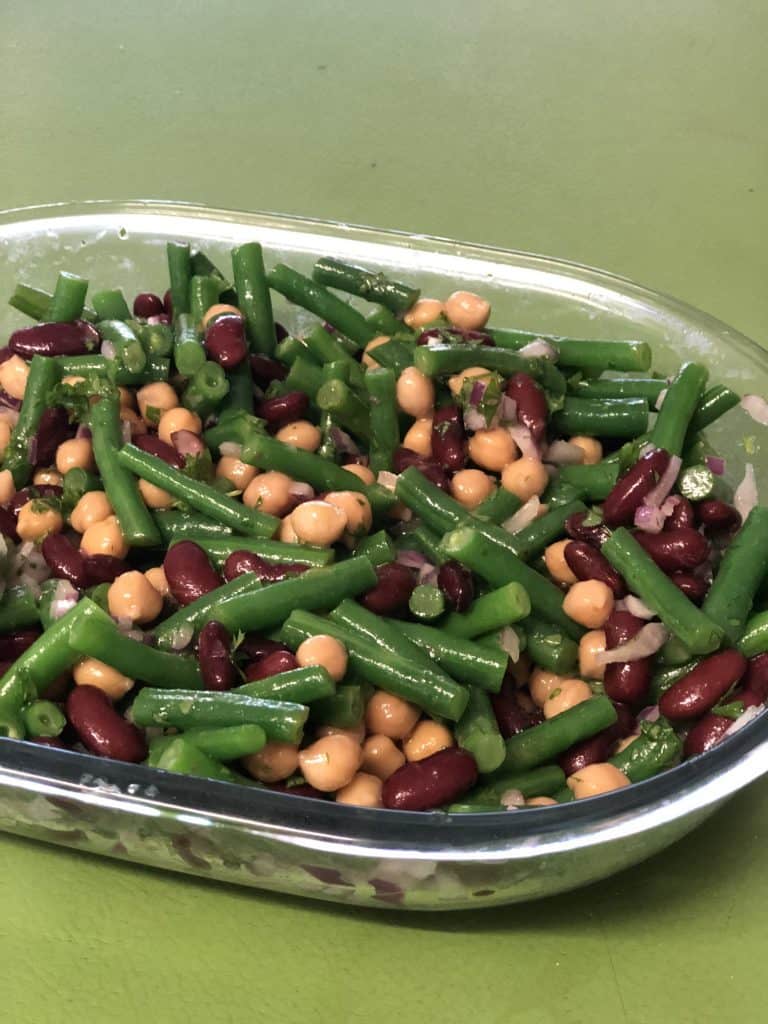 Kitchen Jams: Fitz and The Tantrums
Back at the beans again. I simply can't help myself, but you won't be able to either after you taste this recipe. I can't say I WONT write a short series of haikus about beans at some point in my life.
Fiber is like a boy band group.
There are different personalities/personas of fiber (the moody one, the sexy one, the crazy one…..) because there are different types. While you often find these different types of fiber packaged together in whole foods, just being generally awesome for your health and your taste buds as a team, they serve your health and body in slightly different ways.
Need to know more about the fiber line up and how you can use different types through foods you choose to support your body in different ways ? (think more comfortable poops, healthy heart profile, feeling fuller and more satisfied at meal and snack times to name few). Hold onto your whole wheat as I will be sharing more with you next week.
Beans are particularly wonderful for feeding the world of organisms you carry around with you. Its true, you have a MASSIVE entourage living both in you and on you. Don't get creeped out if you haven't heard about this much yet, it's actually great and science currently shows that in fact the more variety in your resident population the merrier. Of course, there is always THAT person….we won't take time to talk about them right now though.
This is a field I adore however and we are learning more about every day so this won't be the last I mention it (thrilled?! ……me too……or maybe you are just hungry).
Quick Three Bean Salad
Fiber like that in this  bean filled recipe works to feed organisms living in your gut that contribute to your health and well being. A tasty companion to any potential BBQ, potluck or picnic main selection. Consider pairing with some simple garlic shrimp kababs or grilled mediterranean herbed chicken breast.
Prep Time: 10 minutes (you will need to blanch your green beans-don't worry directions to follow)
Cook Time: 3 minutes
Total Time: About 15 minutes
Servings: About 8
Ingredients: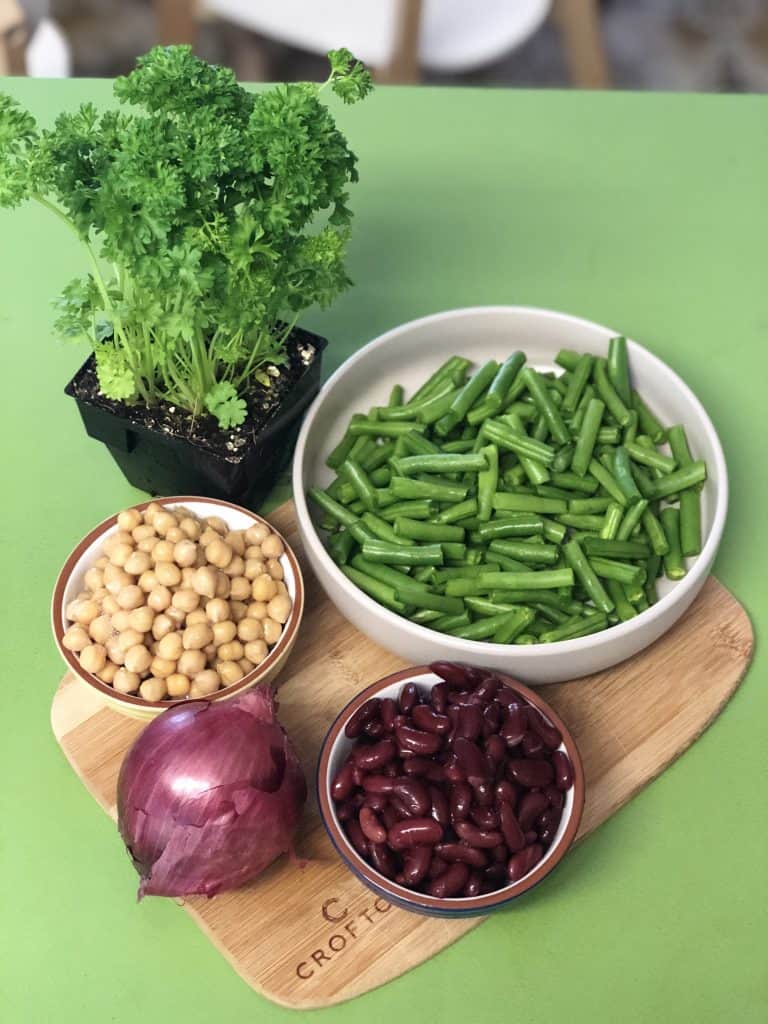 12 ounces fresh green beans, ends trimmed, diced into roughly 1 inches pieces
1 15 ounce BPA free can low sodium dark red kidney beans, rinsed and drained
1 15 ounce BPA free can low sodium garbanzo beans, rinsed and drained
1/2 medium red onion
1/4 cup fresh curly parsley ( you can add more to taste)
Salt and freshly cracked black pepper to taste
Dressing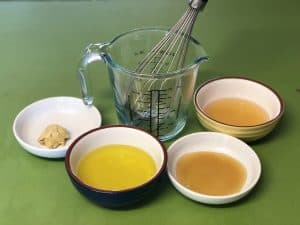 1/2 cup extra-virgin olive oil
1/4 cup white wine vinegar
1 tablespoon local organic honey
2 teaspoons Dijon mustard
Directions
Blanch your green beans and set them aside. This is very similar to blanching asparagus which you can quickly get caught up on via Basic Blanched Asparagus it's just with green beans.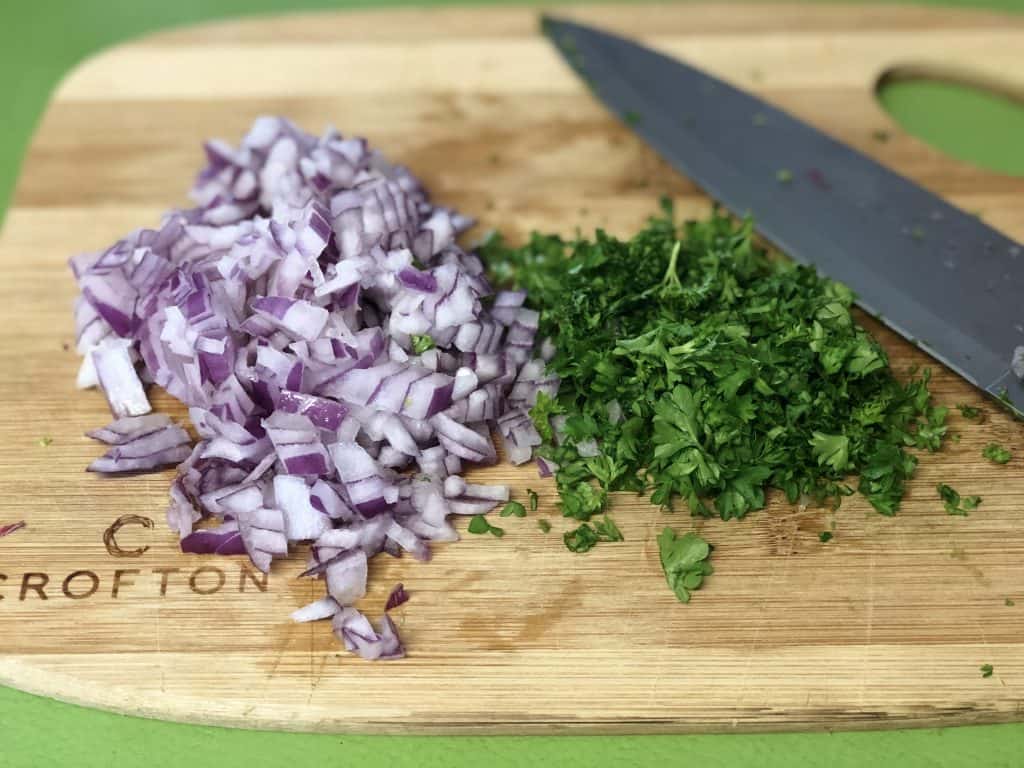 Finely dice the onion and finely chop the parsley. Set these aside.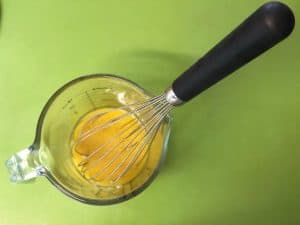 Whisk together all ingredients for the dressing until well combined. Place all beans, parsley and onion in a dish large enough for you to mix in then add the dressing. Stir until vegetables are well coated. Add salt and freshly cracked black pepper to taste. I like to be liberal with my pepper but you do you. Also the option to add more parsley if you would like.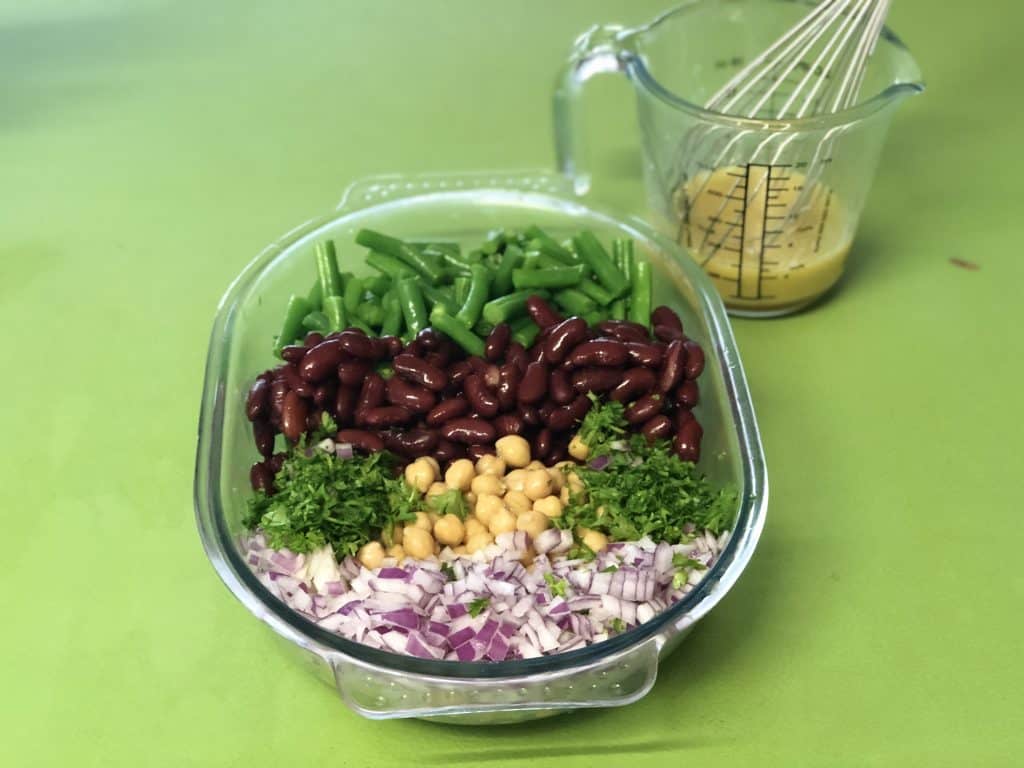 This is delicious enjoyed immediately after mixing the dressing in, but honestly it just gets better with time. Letting it hang out overnight in the fridge or for a full day lets the veggies marinate in the dressing. This is what makes it a perfect meal prep side for workweek meals. All of this coming from someone who doesn't always do well with leftovers if we are being honest.
SaveSave