Each year rather than set resolutions I like to set a theme or intention for myself for the year. You may already be aware that resolutions often fall flat and that can leave one feeling defeated, deflated or like a failure. None of these things are your true identify or things which you deserve to feel in setting out to better yourself or others in some way by making resolutions (which was perhaps your actual intent?).
It's never too late to celebrate embarking on growing more ———-(insert YOUR theme)!
Landing Your Own Theme
I like to ask myself these questions in searching for a theme to guide me through my next year and to make sure I am not setting myself up to simply make a list of rules.
What do you want more of in my life?
If someone new were to meet you for the first time later this year, what would you hope their impression of you might be?
What parts of you have been nourished over this past year?
Where do you have room to do more growing next?
What embodies these things the most (what areas you want to grow into more)?
2018 (and perhaps 2019 too) will be my year to adventure into being BOLD.
What does being BOLD mean to me? It actually means saying yes more (Practicing saying no is great and I feel like I have had a good year of that in 2017 and am ready to switch gears), it means leaning in with faith and taking bigger steps, giving myself more room and space to grow by seeking out and embracing things that seem challenging or things that bubble fear of failure by comparison or unrealistic standards.
It means being vulnerable, more adventurous, it means likely failing and often feeling frustrated, but it also means growing stronger as a person, as a woman and in my relationships.
What is your theme for this year? What do you want more of?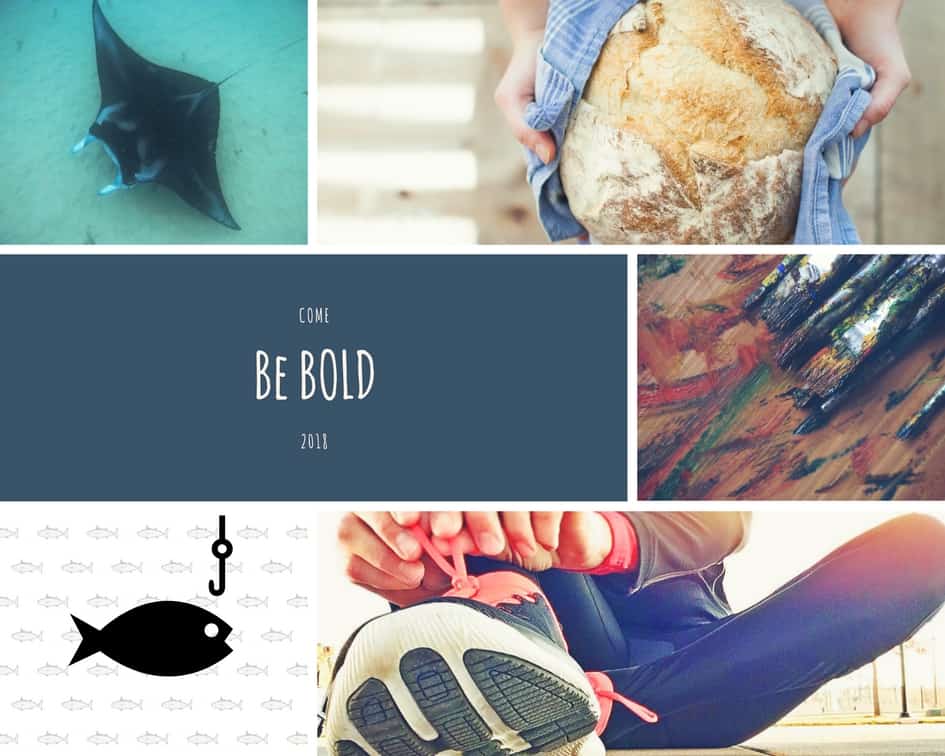 After landing on a theme I like to let my mind wander into what things may help me grow and live out my theme during the year. You are in a way working to edit your personal story about yourself and add something to it you want to lean into. The list below are things I have set intention around working towards and exploring that personally for one reason or another I feel create in me more boldness. While I/we may not accomplish all of these this year that is okay and not the point.
I am sure you have some things big or small that come to mind for yourself too. What would be on your list? What helps you live out your theme?
*Focus on adding value to your life and world in considering what might be on your list.
The BOLD List
I'll keep you in the loop on how things are coming along as we go.
2018
Start my blog (DONE!)
Bake the "perfect" loaf of bread (crunchy crust, fluffy chewy middle)
Complete a half marathon
Learn how to clean and cook a fresh caught fish
Create a large piece of artwork for our home
Snorkel or scuba with manta rays
Be able to hold crow pose (yoga pose)
Lean into using my creativity for business venture
Camper van road trip around New Zealand South Island
SaveSaveSaveSave
SaveSave
SaveSaveSaveSaveSaveSave
SaveSave
SaveSave
SaveSave