Tuna, Olive and Asparagus Salad

This salad is packed with protein and healthy fats to satisfy your tummy as the main attraction at meal time. Perfect served cold on a warm spring or summer day for a cool and refreshing crunch.
Kitchen Jams: Spotify, Bob Marley
This recipe includes the use of two skills I only mastered in the past five years of my life, but boy do I wish I had figured them out sooner. Blanched asparagus and the perfect hard-boiled egg are highlights in this salad you won't want to miss out on knowing how to make for one more day (if you don't already).
I have made many sad eggs in my day. Dry eggs, runny eggs, there is the hard-boiled egg that I discovered was in fact raw when I cracked into at my desk one day and there are the over cooked extra desert dry hard-boiled eggs that I still ate out of spite. I believe in you becoming your own successful egg making machine so much so that I made a separate blog post about it here. Eggs are affordable, versatile and nutrient dense.
I love picking up local fresh eggs at farmers market on Saturdays partly so I can look at the farmers hilarious (and very sweet) poster board of his chickens just hanging out but also to support my local farmers and growers and stay mindful of how far my food has traveled and from where. At my last visit I learned that his grass needs cutting now because it is getting so long he is worried they will get lost in it (come on…..that's cute).
I'm not saying you should eat a dozen eggs a day, but when hard-boiled (or soft-boiled) in advance they can really come to your aid during a busy week.
Tuna, Olive and Asparagus Salad
A hearty fiber, protein and healthy fat packed meal easily prepped for busy weeks to nourish your body and your taste buds so you can do you. Works double time as a satisfying filling for whole wheat pita pockets or wraps.
Prep time: 15 minutes
Cook time: 20 minutes
Total time: 35 minutes
Servings: 2
Ingredients: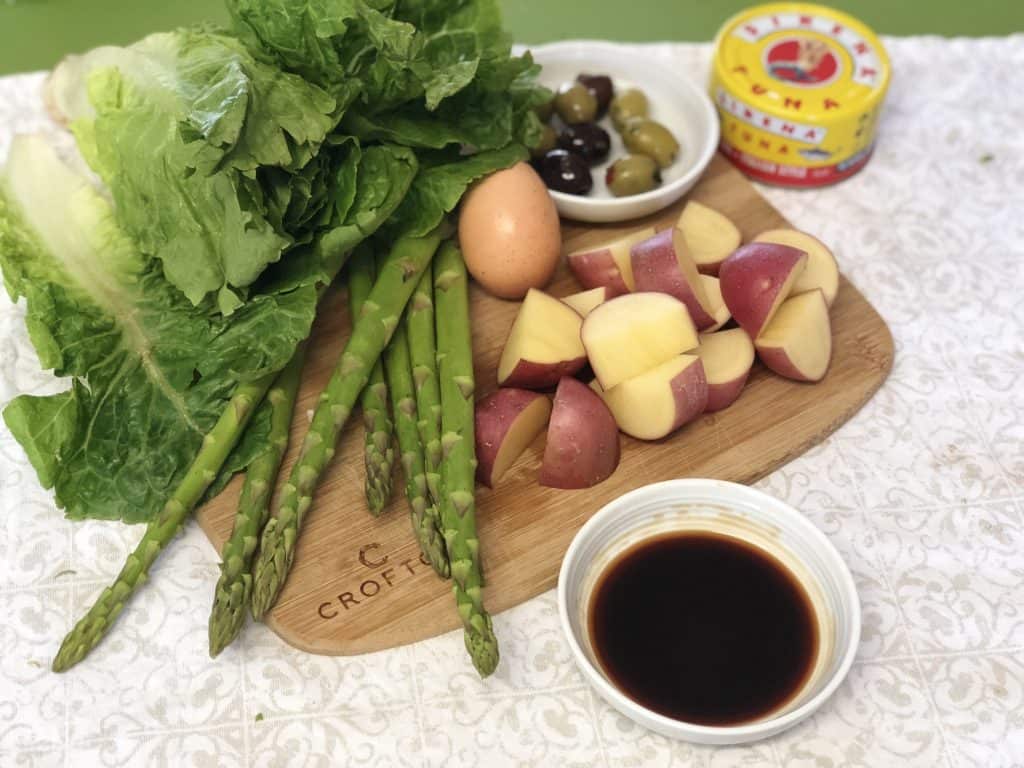 2 medium sized eggs, hard-boiled (or soft if that is your preference)
1 small bunch of asparagus, blanched (about 8 spears)
Extra virgin olive oil (to lightly coat potatoes for roasting)
2 small red potatoes, cut in quarters
2 medium sized heads of Coss lettuce (small heads of butter lettuce would work great too)
1/4 cup olives, pitted (I like to get a mix of types for this recipe)
1-24 ounce can line caught tuna packed in olive oil
2 tablespoons balsamic vinegar
Fresh cracked pepper
Fresh cracked sea salt
Directions
Pre-heat oven to 180°C fan forced (400°F ). Rinse potatoes and cut each into roughly six wedges. Place potatoes on baking tray and coat lightly with olive oil and fresh cracked pepper. Place in oven and bake for 20 minutes.
Meanwhile wash lettuce, pat dry, roughly chop and place aside in a bowl. Cut olives in half lengthwise and set aside. Drain tuna and set aside. cut asparagus spears in half width wise and set aside. Slice eggs into several rounds and set aside.
Once potatoes are finished cooking allow to cool for about five minutes. Layer and spread out asparagus spears, tuna chunks, olives, eggs and potato wedges over your bowl of freshly chopped greens. Top with fresh cracked pepper and drizzle of balsamic vinegar.
This salad works great for meal prepping. Double up on the ingredients to allow for four hearty servings during the week. Boil your eggs, blanch asparagus and roast your potatoes at the same time to save time on prep for the week and store together in separate containers so you can grab and go with your salad toppings.
*Tip-Wait to wash your lettuce until you are ready to eat it to help your salad be fresh and crunchy each time.
Happy munching and crunching!
SaveSave
SaveSave
SaveSaveSaveSaveSaveSave
SaveSave
SaveSave
SaveSave
SaveSave
SaveSave
SaveSave
SaveSave