Almond Dukkah Dip
                                  
This crunchy, aromatic, nutty, spicy, condiment can be enjoyed as a dip but also plays well with baked fish, chicken, avocado toast, eggs and more. Since I have almonds in my cupboard already I felt the universe was whispering "Almond Dukkah…..do it…". So here we are.
Kitchen Jams: Spotify Daily Mix 4 (The Shins, Shakey Graves, Edward Sharp & The Magnetics etc.)
My very first encounter with Dukkah was as the result of a research project and presentation I did on sesame seeds during my Dietetic Internship rotation at the American Botanical Council in Austin Texas. Yes, I actually did that and yes I did enjoy it. Sesame seeds are often used to make Dukkah in addition to a wide possible combination of other seeds, nuts, herbs and spices.
It smells phenomenal and you likely have some of the ingredients you need to make Dukkah in your kitchen right now.
Did I mention the minimal clean up and steps involved? A flavor packed dream come true.
Sadly I entirely forgot about Dukkah until moving to Brisbane. It's everywhere here, it's on everything and it is all kinds of nutty spicy deliciousness. I quickly came to terms with the fact that I needed to re-visit how to make it, but also that I wanted to be able to answer my fiancés questions about where it comes from.
What my searching uncovered is that Dukkah means "to crush" or "to pound" in Arabic and  it hails from Egypt. Traditionally it is served as an early evening snack with bread and olive oil but it can do a whole lot more for other meals you already make if you let it. The exact combination of nuts and spices and herbs used to make Dukkah varies depending on who is making it. Everyone has their own take or family recipe.
In Australia you can find a variety of already made Dukkah mixes and products like hummus that has Dukkah sprinkled on top. This past weekend I enjoyed avocado on toast out at a cafe in Noosa that featured a light dusting of Dukkah.
I felt inspired by my foodie flashback and the aroma of fresh Dukkah goodness filling my nostrols to proceeded to make breakfast for dinner-Avocado & Almond Dukkah Toast.
I have intentions for playing around with using it as a crusty coating for fish or meat, a new popcorn seasoning or perhaps to top a home made veggie pizza. With Dukkah it seems anything goes.
Let's Dukkah!
Almond Dukkah Dip
*This recipe may not be agreeable for those with dental concerns as the blending process does not always break down all of the whole seeds into smaller pieces. This means you risk potentially biting into a whole peppercorn for example. You know your teeth best. Ensure your mixture is ground for longer, that you have a sharp blade or are using something more specified to finely grinding spices such as an actual spice grinder.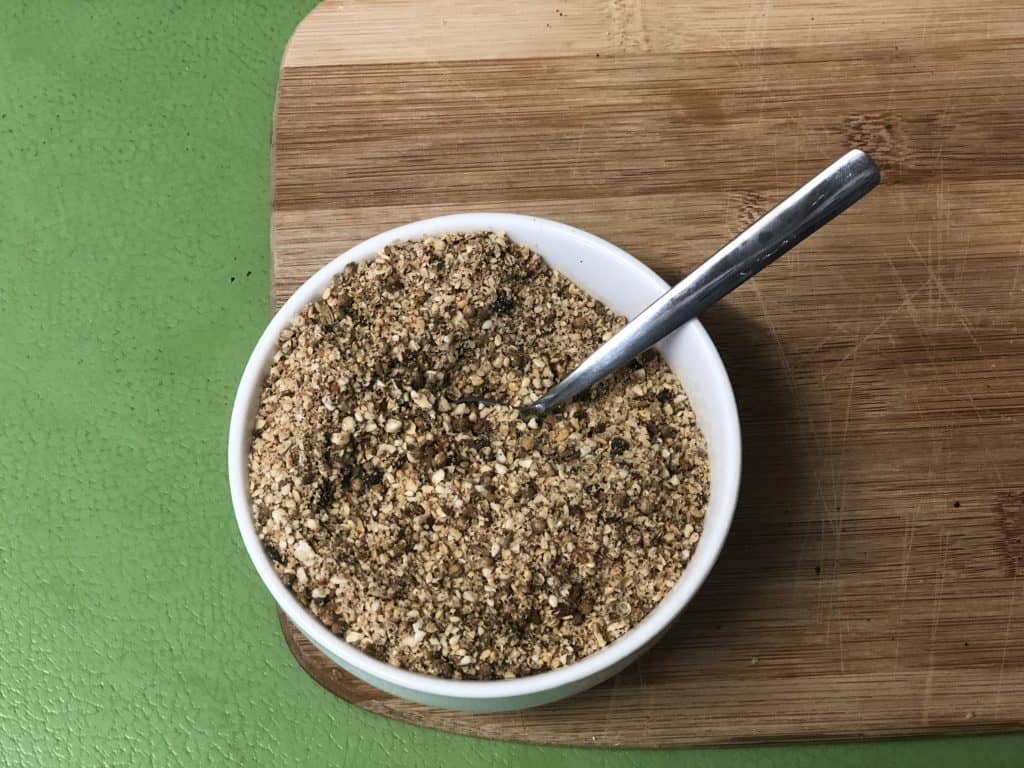 Prep Time: 5-10 minutes
Cook Time: 10 minutes
Total Time: 15-20 minutes
Makes: Roughly 1 cup
Servings: Depends on how you use it
Ingredients
1/2 cup raw almonds, whole with skin
1/4 cup whole coriander seeds
1/4 cup white sesame seeds
1 tbsp whole black peppercorn
1/2 tbsp whole cumin seeds
1 tsp whole fennel seeds
2 tsp pink sea salt
1 tsp dried red chilli pepper flakes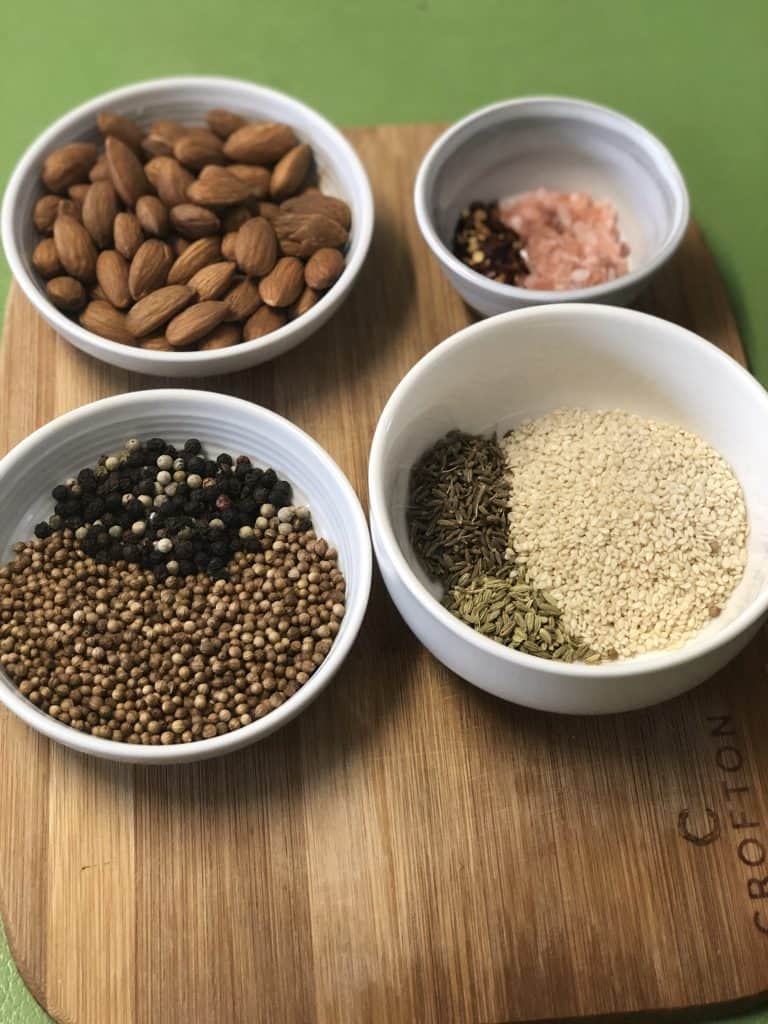 Directions
Heat two skillets over medium low heat and wait until pans are warm (I hover my hand several inches above the pan to see if I can feel the warmth).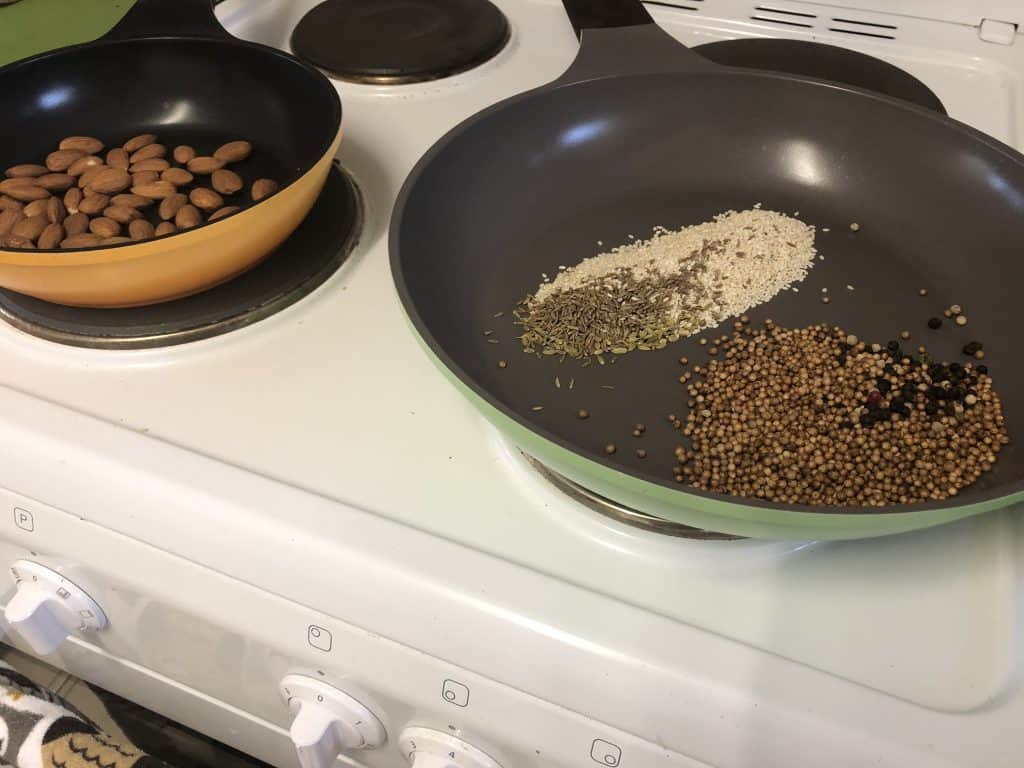 Add almonds to one pan. Add all other herbs and spices to the other pan except for the sea salt and red chili pepper flakes.
Toast all ingredients until slightly browned and fragrant. This should take about 5 to 6 minutes. Stir or toss occasionally to ensure all nuts, seeds and spices are evenly toasted. Set aside and allow to cool.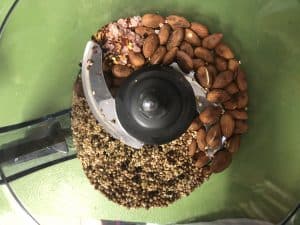 Combine almonds, toasted nuts and seeds, sea salt and red chile pepper flakes in a food processor and blend until the mixture is crumbly. You can create a finer Dukkah if you would like. I prefer more of a crunch so I stop blending while there are still some chunky bits left. Don't blend for too long or you will end up making a Dukkah butter of sorts.
Time to pour yourself some olive oil in a shallow dish, dip in some fresh crusty bread or pita followed by a generous dip in your Almond Dukkah Dip! Get ready to actually say yuu
SaveSaveSaveSaveSaveSave
SaveSave
SaveSave
SaveSave